National Fire Plan Success Story
Prescribed Fire Treatment Area Helps Firefighters Control Wildfire
Padre Islands National Seashore, Texas
National Fire Plan - Firefighting
2009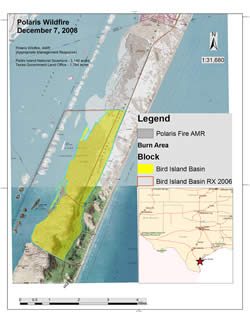 The 4,924 acre Polaris Wildfire burned 1,794 acres of Texas Government Land Office property and 3,140 acres of the Padre Island NS, including 1,562 acres previously treated with prescribed fire. Click map to see a larger version.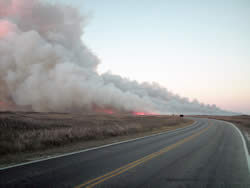 Fire behavior on December 7, 2008 within area previously treated with prescribed fire in March 2007.
The Polaris Wildfire started on December 6, 2008 on Padre Island on property owned by the Texas Government Land Office, just south of Sea Pines and approximately 2.5 miles north of Padre Islands National Seashore. Padre Island is a barrier island approximately two miles wide, characterized by coastal grassland prairie. A cold front passage produced north winds that drove the fire south toward the national seashore.
The local Flower Bluff volunteer fire department (VFD) responded and attempted direct initial attack throughout the night. North winds increased by mid-morning on Sunday, and the VFD requested assistance from the Texas Forest Service. As the fire burned into the national seashore, collateral duty firefighters from the national seashore responded, with assistance from Aransas NWR Complex.
The fire was burning towards an area recently treated with prescribed fire. Many of the firefighters on the Polaris Fire had participated in the prescribed burns. They were familiar with the area and values at risk. Based on this information, the Incident Commander shifted to an indirect strategy that would be the safest and most effective approach. Firefighters burned out from Bird Island Basin Road, the south boundary of a burn unit treated with prescribed fire in March 2007. This increased firefighter safety by keeping firefighters out of the fuel and allowing them to work along the roads. It also decreased the number of suppression resources needed. Additionally, fire managers were reassured that there were two burn units downwind of the fire that had been treated with prescribed fire in June 2008. This offered an additional buffer, as the treated fuels had a lower probability of ignition, minimizing the threat of spotting and providing additional protection to park infrastructure. The fire was contained by 7 p.m. the next day.
Subtle changes in fire behavior were observed in the area previously treated with prescribed fire. Due to the two-year rough, drought conditions, and wind speeds, flame length and rate of spread were not greatly reduced. However, Incident Commander Ryan Vice stated, "I did notice a reduction in the amount of smoke when the wildfire entered the burned treatment area."
Contact: D.W. Ivans, NPS Southeast Texas Fire Cluster Fuels Specialist, (409) 951-6852.