Archive - Wildland Fire Leadership Council News and Accomplishments
Wildland Fire Leadership Council Monitoring and Performance Report
In December of 2005, the Wildland Fire Leadership Council updated its 10-Year Strategy to address the nation's wildland fire issues. The strategy includes 4 goals aimed at addressing wildland fire through protection of people, property and natural resources; reduction of hazardous fuels; restoration of fire adapted ecosystems and post-fire rehabilitation; and community assistance. The update incorporated 28 performance measures and monitoring questions to help federal, state and local governments establish consistent fire management performance expectations and provide feedback on related accomplishments. The 2007 data generally show progress toward meeting the goals of the 10-Year Strategy and its Implementation Plan.
A Collaborative Approach for Reducing Wildland Fire Risks to Communities and the Environment, Monitoring and Performance Report
Monitoring Trends in Burn Severity
The Wildland Fire Leadership Council (WFLC) has sponsored the Monitoring Trends in Burn Severity (MTBS) project to help meet monitoring information requirements contained within the National Fire Plan. MTBS will map and assess the burn severity for all large current and historical fires across the continental United States, Alaska, and Hawaii. MTBS data will provide the first consistent and comprehensive look at fire effects and associated trends spanning a 25 year period across the entire US. A description of background, methods, schedule, and products along with annual National reports are available at the MTBS website.
WFLC MEETING IN IDAHO - May 11, 2005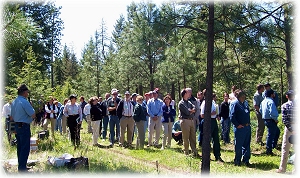 The Wildland Fire Leadership Council met in Coeur d'Alene May 11-12 with a number of guests in attendance. Mark Rey with the USDA announced that his term as chair of WFLC would end following this meeting; Rebecca Watson with the DOI will take on duties of the rotating position. Reports were presented on the fire season outlook and the hazardous fuels program, and an update was presented on the NFP implementation plan. Other updates included the cost containment report and monitoring modules. Representatives from the Idaho State Fire Plan Working Group were present and reported on their successes, and attendees participated in a field trip hosted by the Idaho Department of Lands.
LEADERSHIP SUMMIT ON COLLABORATION - February 14, 2005
This two-day summit was held in Albuquerque, New Mexico, and focused national leaders in natural resource management on increasing state-level collaboration in restoring healthy forests and grasslands and protecting communities. National and regional leaders from the Forest Service, Bureau of Land Management, National Park Service, U.S. Fish and Wildlife Service, and Bureau of Indian Affairs, along with state leaders and conservationists and other key stakeholders attended; more than 130 people participated.
Reports