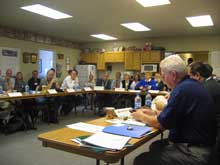 WFLC meeting at Red Lodge, Montana, fire hall, June 2007.
Archive - Wildland Fire Leadership Council (May 2002 to March 2008)
About the Council
The Wildland Fire Leadership Council (WFLC) was established in April 2002 by the Secretaries of Agriculture and the Interior to provide an intergovernmental committee to support the implementation and coordination of Federal Fire Management Policy. A Memorandum of Understanding (PDF, 286 KB) signed in October 2007 authorized the continuation of the WFLC. The Council meets regularly to provide oversight and coordination of the National Fire Plan and the Federal Wildland Fire Management Policy.
Mission
The Wildland Fire Leadership Council is an intergovernmental committee of Federal, State, tribal, county, and municipal government officials convened by the Secretaries of the Interior and Agriculture dedicated to consistent implementation of wildland fire policies, goals, and management activities. The Council provides strategic oversight to ensure policy coordination, accountability, and effective implementation of Federal Wildland Fire Management Policy and related long-term strategies to address wildfire suppression, assistance to communities, hazardous fuels reduction, habitat restoration, and rehabilitation of the Nation's forests and rangelands.
Accomplishments
Since its inception in 2002, the WFLC has been highly successful through its intergovernmental collaboration to provide seamless delivery of a coordinated fire protection program. Read more (PDF, 115 KB)…